CORVUS is the first and only European manufacturer of UTV vehicles, with options for 2 and 4 wheel drive and electric models to be released in 2022.

The new TerrainDX4 follows in the tracks of its predecessor, but with improvements that make it undoubtedly superior. A powerful and robust 4×4 diesel vehicle, generous storage and load capacity, fully prepared to excel in farmland, forestry work, stock breeding and maintenance services.
MARKET LEADING ONBOARD STORAGE CAPACITY
FRONT TRUNK An added and very practical space to store tools or small packages. Capacity of 45 L or 25 kg .
INNER DRAWERS Keep everything you need close at hand and under lock and key with these 3 convenient compartments, located under the seats. Total capacity of 67 L or 30 kg.
CARGO BOX The TERRAIN rear box stands out on the market for its dimensions and hardness. May transport up 450 kg stably and safely. A lightweight resistant steel box, and prepared for the installation of accessories and implements.
Its 309 mm ground clearance and its shock absorbers with adjustable settings will help you overcome any obstacle.
Quickly activate the 4×4 system at the touch of a button on the dashboard when circumstances demand it.
Lift the front bonnet to quickly access and check the brake, coolant and windscreen wiper fluids.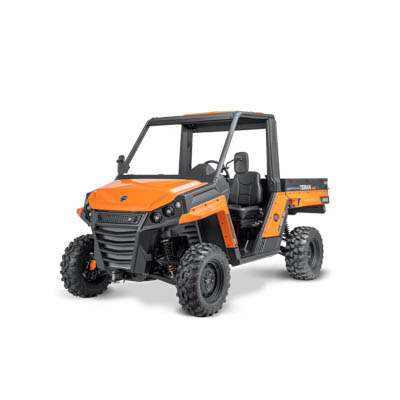 The new TERRAIN reduces the turning angle and is much more agile. Now you can turn more in less space.
The raised intakes don't just prevent over-heating, they also make it harder for dust, water and impurities to get into the engine and the CVT.
This system reduces and corrects front suspension sag when you have to brake suddenly.